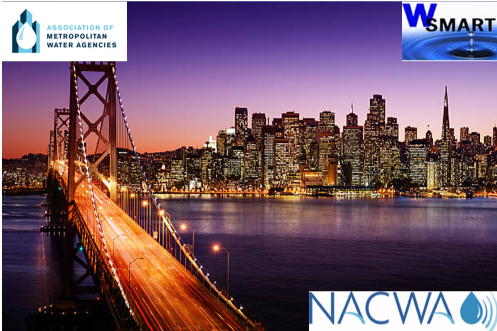 Background
The 2018 AMWA – W-SMART Experience-Sharing Forum, hosted this year by AMWA in the context of its 2018 Executive Management Conference (EMC) (http://www.amwa.net/event/2018-executive-management-conference ) and supported by AMWA and NACWA, has three main objectives:
Expanding the AMWA and W-SMART Community of Experience and Knowledge Sharing on challenging issues facing the Executives of Water Utilities;
Providing W-SMART members with access to a broader cross section of U.S. Water Systems;
Integrating and expanding the opportunity to collaborate on issues of mutual interest for AMWA, NACWA and W-SMART members.
Following the EMC Conference and its site tour on October 17, W-SMART, NACWA and AMWA members are invited to participate in an experience-sharing and best practice assessment Workshop addressing the challenges of Resilience Building & Crisis management facing growing Climate Change Impacts.
Post Conference Workshop on Crisis Management & Resilience Building
Panel Discussions of AMWA, W-SMART & NACWA Members 10/17/2018 (1:45 – 5:00 pm)
The post EMC Workshop, providing an experience sharing forum among AMWA, W-SMART & NACWA members, will include two panel discussion sessions related to the EMC Themes, focusing on:
Session 1 – Water Reclamation & Energy Recovery facing Climate Change Impacts – Challenges, risks, experience and practice of water recovery for industrial, agricultural and other applications in water stress regions, including energy "neutral" strategies for waste water treatment, key lessons from case studies and innovative solutions.
Session 2 – Crisis Management & Resilience Building Challenges -Crisis management and preparedness challenges of European and North American water utilities facing extreme events and growing climate change impacts, including interactive assessment of key lessons from recent disaster cases and their effects on the utility adaptation strategies and capacity building needs.
Program
Sunday, October 14: Stanford Room

9:00 am Registration
09:30 – 11:30 pm W-SMART General Assembly Meeting
12:00 – 14:00 pm. Lunch on your own
14:00 – 16:00 pm. W-SMART Initiatives & UNESCO EauMega Meeting (UNESCO)
16:45 – 18:00 pm. Sunday Roundtable: Utility Perspectives
18:00 – 19:00 pm AMWA Welcome reception
October 15 & 16 AMWA 2018 Executive Management conference (Program online)
Wednesday, October 17:

7:30 – 12:00pm Site Tour San Francisco Groundwater Supply Project

Tour participants should meet in the lobby by 7:30 a.m. ahead of departure at 7:45 sharp. Breakfast, sponsored by Tetra Tech, will be served during the first stop at the San Francisco Public Utilities Commission headquarters. SFPUC's Groundwater Supply Project is a $66 million initiative that will increase the sustainability of the city's drinking water supply by producing four million gallons of treated groundwater per day by 2021. This multi-site visit will include stops at SFPUC's headquarters for a project overview, the Lake Merced pump station, Sunset Reservoir and a pump station in Golden Gate Park. The tour will return to the hotel by 12:00 noon.


12:30-13:30 Lunch in Barclay I&II

(Members' round-table interaction)

13:45-16:45 Post-Conference Workshop on Crisis Management & Resilience Building

(Peacock Court)

16:50 – 17:00 Closing Remarks – The Way Forward
Post Conference Workshop on Crisis Management & Resilience Building
10/17/2018 (1:45 – 5:00 pm)
1:45 – 1:55 pm
Workshop Objectives
Prof. Ilan Juran, Executive Director, W-SMART & Diane VanDe Hei, CEO, AMWA
1:55 – 3:15 pm
Session 1 – Water Reclamation & Energy Recovery facing Climate Change Impacts
Challenges, risks, experience and practice of water recovery for industrial, agricultural and other applications in water stress regions, including energy "neutral" strategies for waste water treatment, key lessons from case studies and innovative solutions.

Chair: Bruno Nguyen, President,W-SMART
Panelists: Jean-Pierre Tabuchi, Specialist, SIAAP

Arie Amsalem, Deputy CEO & Avraham Ben Yosef, VP & Chief Engineer, MEORKOT

Daryl Slusher, Deputy General Manager,Austin Water

Dr. Joshua Sperling, Research Fellow, DOE-NREL

Q&A, Debriefing Presentations & Discussion

Alexandra Cristóvão, EPAL Program for WWTP Energy Optimization Prof. Ilan Juran, SIAAP – W-SMART "I-WWTP.COM" Program

3:15 – 3:30 pm
Coffee Break
3:30 – 4:50 pm
Session 2- Crisis Management & Resilience Building Challenges
Crisis management and preparedness challenges of European and North American water utilities facing extreme events and growing climate change impacts, including cyber security, interactive assessment of key lessons from recent disaster cases and their effects on the utility adaptation strategies and capacity building needs.

Chair: Eric Adamse, Security Policy Officer, VITENSPanelists:

Thierry Witkowicz, Vice President, Resilience & Smart Cities, VEOLIA

Alexandra Cristóvão, Director, Corporate Sustainability Division, EPAL

Cecil McMaster, Chief Information Officer, NYCDEP

Jim Lochhead, CEO/Manager, Denver Water

Q&A, Debriefing Presentations & Discussion

W. De Angelis, IT Experts, CILE, Utility Challenges facing New European NIS Directive Eric Adamse, Cyber Security Challenges the VITENS Experience

4:50 to 5:00 pm
Closing Remarks – The way Forward
1:45 – 1:55 pm
Workshop Objectives
Prof. Ilan Juran, Executive Director, W-SMART & Diane VanDe Hei, CEO, AMWA
1:55 – 3:15 pm
Session 1 – Water Reclamation & Energy Recovery facing Climate Change Impacts
Challenges, risks, experience and practice of water recovery for industrial, agricultural and other applications in water stress regions, including energy "neutral" strategies for waste water treatment, key lessons from case studies and innovative solutions.

Chair: Bruno Nguyen, President,

W-SMART


Panelists:

Jean-Pierre Tabuchi, Specialist, SIAAP Proceeding

Arie Amsalem, Deputy CEO & Avraham Ben Yosef, VP & Chief Engineer, MEORKOT

Daryl Slusher, Deputy General Manager,Austin Water Proceeding

Dr. Joshua Sperling, Research Fellow, DOE-NREL

Q&A, Debriefing Presentations & Discussion

Alexandra Cristóvão, EPAL Program for WWTP Energy Optimization Prof. Ilan Juran, SIAAP – W-SMART "I-WWTP.COM" Program Proceeding


3:15 – 3:30 pm
Coffee Break
3:30 – 4:50 pm
Session 2- Crisis Management & Resilience Building Challenges
Crisis management and preparedness challenges of European and North American water utilities facing extreme events and growing climate change impacts, including cyber security, interactive assessment of key lessons from recent disaster cases and their effects on the utility adaptation strategies and capacity building needs.

Chair: Eric Adamse, Security Policy Officer, VITENS Proceeding

Panelists:
Thierry Witkowicz, Vice President, Resilience & Smart Cities, VEOLIA Proceeding

Alexandra Cristóvão, Director, Corporate Sustainability Division, EPAL

Cecil McMaster, Chief Information Officer, NYCDEP

Jim Lochhead, CEO/Manager, Denver Water

Q&A, Debriefing Presentations & Discussion

W. De Angelis, IT Experts, CILE, Utility Challenges facing New European NIS Directive Eric Adamse, Cyber Security Challenges the VITENS Experience Proceeding


4:50 to 5:00 pm
Closing Remarks – The way Forward
Contact
Kavya UB
Email: kub205@nyu.edu